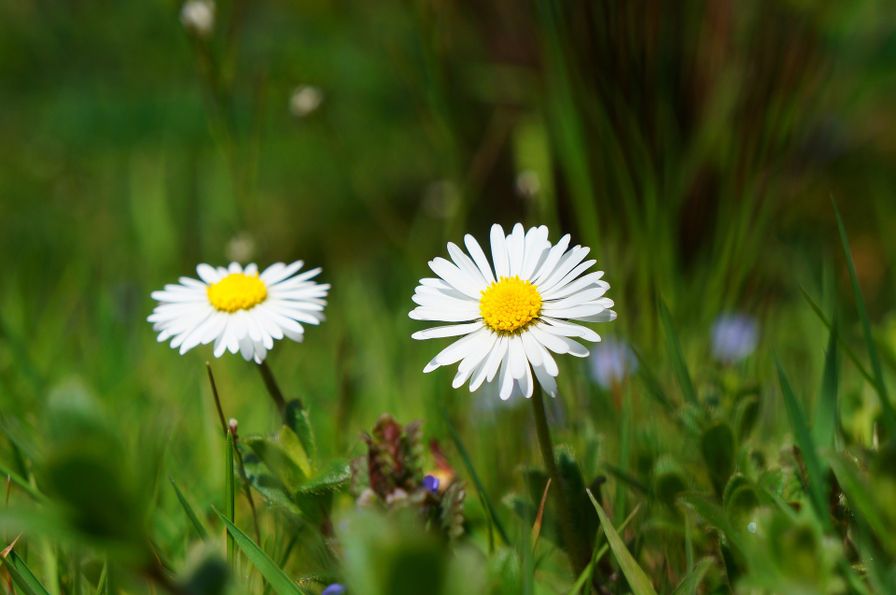 Daisies
Wednesday 18th May, 2016
I don't know to this day what made me ask such difficult questions of the doctors, I only know that once I realised that Marc was seriously ill, something inside of me kicked in and I had to know everything, as if my understanding more about Marc's condition could save his life. On speaking to Linda about that day, I can now see how differently we were dealing with things; that she did not want to hear that her son was 'unlikely to survive' when I asked the question. She understood that I was attempting to cope with what was happening in whatever way I could, but found this difficult to hear. She was doing the same as me: just trying to cope with her son's sudden illness in whatever way she could, it was just that she was doing it in a very different way. She says that while I went into 'fighting mode' and wanted to take action, her reaction was more of a spiritual one, to pray for help for Marc.
Soon after our conversation with the doctor, Marc was again taken down to surgery. We prepared ourselves for another lengthy wait to see whether he would make it through and what, if anything, the second operation would reveal. The wait during this second operation seemed more agonising if anything, I think perhaps because I was less tired, not suffering as much from the initial shock, and more aware of what was at stake. I had let myself relax a little after the first operation, thinking that the worst was over, so to be told the following morning that Marc had to undergo a second procedure was difficult to bear. I just kept imagining his weakened body having to withstand even more trauma, after all he had already managed to survive, and the thought made me feel physically sick.
So many people who cared
The entire family was there that day, aside from my sister at first, although she actually somehow managed to persuade her boss to let her out of work early and arrived sometime late morning while Marc was down in the operating theatre. Linda and Matt went to the hospital chapel for a while and once my mum left to collect Amy from nursery, my dad sat with me. I never visited the hospital chapel the entire time that Marc was ill, in fact it's probably the one room in the hospital that I couldn't locate, but I hugely appreciated its importance to Linda. Throughout Marc's illness, I know that many people prayed for him, and I felt extremely thankful that there were so many people who cared enough to ask their God to help him.
I only recently talked to Linda a little more about her visits to the chapel. To my knowledge at the time, she only visited it once or twice, but I have since found out that she actually went there regularly, and it helped her a lot. There was a notice board in there where people could leave messages about the people they wanted others to pray for, and apparently by the time Marc had been in the hospital for a couple of weeks, the board was filled with her notes about him. This was her taking action to help her son survive. However, the first time she went there and discovered the board, there was actually a note on it about someone she knew. Her nephew's wife's brother had recently passed away at a fairly young age, and the message on the board related to him, saying that he had been 'taken too soon'. I can well imagine how upsetting she found it to encounter a note which mourned the loss of someone she vaguely knew and who was not that far in age from her own son, at a time when he was himself so close to death.
Daisy chains
It was a stiflingly hot day and my dad and I ended up sitting on the grass just outside the main hospital entrance, where we were joined by Matt and Linda, and finally Janet. I remember picking daisies from the grass as we sat there, to try and pass the time. Our daughter Amy had been collecting flowers for me to make a daisy chain a few days earlier, before Marc became ill, and for some reason it stuck in my mind. I am not a person who believes in miracles or destiny, and I'm not at all religious, yet that day those daisies took on a significance I cannot explain. I ended up with two daisies in my pocket which I carried around for the rest of the day.
Somehow I began to believe that if only I could protect the daisies, keep them alive for the day, Marc would make it through the operation. As I type, it sounds ridiculous, but I suppose looking back I needed some kind of talisman to get me through what was happening. I know that my overriding feeling while Marc was in the operation was one of powerlessness, and from the way I incessantly asked questions of the nurses I can see now that my main reaction to Marc being ill was (like I said) one of wanting to be active. I needed always to feel like I was doing something useful, and by asking questions and investigating what was wrong with Marc, and also by taking care of those tiny, delicate flowers, I felt that I was doing something which could somehow help my husband. Perhaps I felt that the daisies were something that I actually had some influence over, something which I could control the outcome of. Either way, I would not let go of them for the rest of the day, and went to bed that night with them sitting on my bedside cabinet.
Good news
We spent a little time sitting outside and some more wandering the corridors. I couldn't sit still for more than a few minutes, so we found ourselves back up in the waiting room after about an hour. We had only been sitting in there for a matter of minutes when a trolley was wheeled past and we realised that Marc was back from surgery. I went cold, thinking back to the advice I had been given the previous day about being reassured if someone was down in surgery for a long period of time. If Marc had only been in surgery for an hour, it couldn't be good. Again, settling Marc back into ITU took ages, and I sat, horrified that whatever the news from the doctors was, it couldn't be anything positive.
When they finally came through and called us into the Relatives' Room, my heart was pounding. We were spoken to by the same male doctor who had talked to us before the operation, and I appreciated the continuity of it. He had talked us through what would happen at the start, had been there throughout the procedure and was still there at the end to let us know what had happened. Thankfully, we were told, the operation had only been short because when they had opened Marc up again, there was no further damage to his bowel, so they hadn't needed to remove any more of it. This was good news, as Marc was still alive and, aside from having his abdomen opened up for a second time, he had not required any further surgery. I felt a huge sense of relief. That said, he was still in the exact same position he had been in the previous day, and no one knew what was wrong with him.
A breakthrough
But it was actually the Thursday when the doctors finally had a breakthrough. They called us into the ward and told us that the microbiology department had phoned down with some information. They had tested the fluid withdrawn from Marc's stomach after the emergency CT scan in the early hours of Wednesday morning. The results showed that the fluid contained a bacteria called Streptococcus Group A, which was causing a severe infection.
I had never heard of Strep A at the time. It can apparently be pretty harmless if found on the surface of the skin or in the throat. In fact this was my only previous knowledge of Streptococcus, as I had heard of the American term 'Strep throat' for an illness which in Britain we might call 'pharyngitis'. Also, the name of the throat soothing lozenges 'Strepsils'. Anyway, though a Strep infection in your throat can be nasty, if the Strep A bacteria gets into an internal part of the body, such as the stomach or bowel (as they had with Marc) it becomes a much more serious illness. Also, it is rare for this to happen, so far more difficult to spot, which is why Marc's symptoms had been so difficult to diagnose from the start.
Given the best care
I have often spent time thinking what might have happened if one of the first doctors who saw Marc had identified his infection. I am actually a strong believer that it is a waste of time looking back and regretting things, and daily we move forwards to make progress rather than looking back, but it was quite a difficult principle to apply in this case. Having said that, I don't blame anyone. Clearly Strep A is incredibly difficult to spot, and the amount of doctors who saw Marc, as well as the number of tests he was given to investigate the cause, leave me in no doubt that he was given the best care. The important thing is that it was spotted, and that he was strong enough to hold on until they knew what was attacking his body and could take the right action to solve it.
So, on Thursday 26th June 2014, Marc's illness was finally identified. He was given new antibiotics on the advice of the microbiology department (none of whom I ever met, but who were the critical department in solving the mystery) and I had fresh hope that he could actually pull through this, now the doctors knew what they were dealing with.