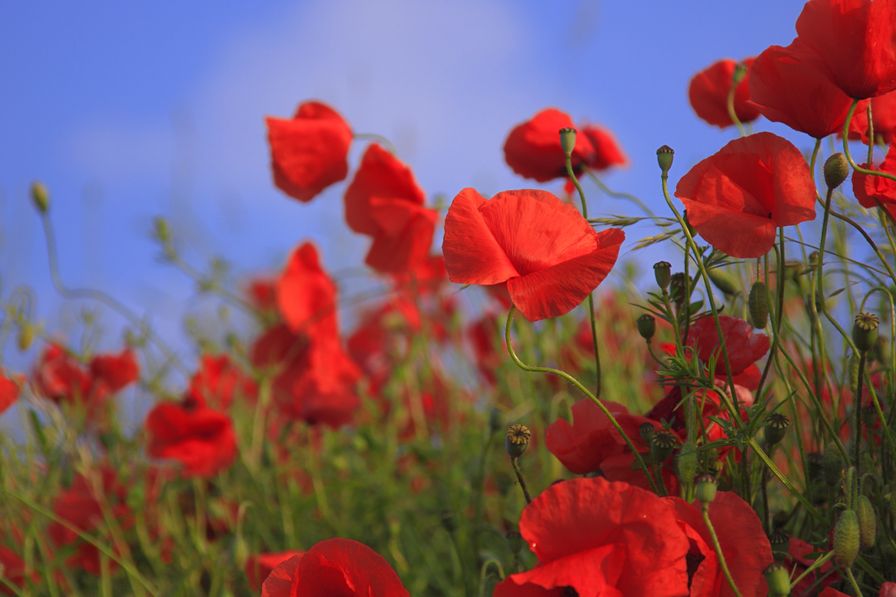 The Right Decision
Wednesday 3rd August, 2016
Aside from worries about Marc's health, how the children were coping, and how we might cope financially if Marc were ill long term, two weeks into Marc's hospital stay, my grandma's funeral took place. If it had been vital for Mum and Dad to take time away to organise it, it was obviously even more important for them to attend it, so on Friday 4th July, they planned to drive over to York to attend it with my sister and the rest of the family.
In the days running up to the 4th, I agonised over what to do. I wanted to be there at the funeral. I wanted to say goodbye to my Dad's mum, a woman I admired immensely. To pay my respects to the Canadian woman who had left her country of birth during the Second World War to travel to India to be a missionary, met my grandad and married him within the year so that she could legitimately come home to Britain with him at the end of the war. The woman who had baked Anzac cookies for us every time we visited. Who had looked after us in her home for a solid week during our childhood while Mum and Dad moved house, and built snowmen in the garden after a particularly heavy winter storm. My last grandparent.
Lovely memories
We had never lived very close to any of my grandparents. This meant we didn't have the kind of relationship with them that many children have with their parents' parents, but we saw them fairly regularly and they spoilt us, as grandparents do, whenever we saw them. My grandmother had been suffering from dementia, and for the past few months had not really known anyone when they visited her, but I have so many lovely memories of the kind, loving woman she was.
One of my fondest last memories of her was taking the children to visit when they were born. When she held Daniel for the first time as a baby she lit up, seeming more animated than she had done for a long while, and it made me so happy that she had got to meet her first great grandchild and been able to hold him in her arms. When Amy was born she was weaker, and couldn't quite manage to hold her securely enough without support, but the experience of meeting a new baby still seemed to make her very happy.
I wanted very much to attend her funeral and say my goodbyes.
More responsive
On the other hand, Marc needed me. If the funeral had been local it would have been entirely possible to attend it and get back to visit Marc without any issue. But the journey to York is between two and three hours long depending on traffic, which can be horrendous. I couldn't attend the funeral and guarantee I would be back to visit Marc. In the early days of his illness I really felt like he couldn't be left for an entire day without seeing me, especially as he was becoming more responsive to us by the day. The doctors continued  to reduce the amount of sedatives he was on in order to let him come out of the coma slowly and see how he coped. I wanted to be there for him in case he came round and was disorientated or frightened.
I spoke to a lot of people about this. Dad reassured me that it was my decision, whatever I decided was ok by him. If I didn't come, everyone would completely understand, under the circumstances. I knew that the previous week, when they had gone to make the arrangements for the funeral with the minister, they had spoken to him about Marc's situation.  Following this discussion, the people of my grandma's church prayed for Marc at their service the following Sunday, which was extremely touching and made me feel like we weren't alone. Even while mourning the loss of one of their own parishioners, the people of my grandma's church were reaching out to support strangers, connected to them only by a distant familial bond.
Selfless
I know it meant a lot to my dad too. I can't imagine how torn he felt during those few days, seeing his daughter going through such trauma yet at the same time grieving for his own parent. I wanted very much to be there at the funeral to support him, the way he had supported me, but as is typical of him, he was incredibly selfless and insisted that I make whatever decision was best for myself and Marc. It was his mum's funeral, so in this instance it was his opinion I cared the most about. The only other person I really wanted to ask was Marc, and he wasn't up for comprehending such things at that point. I also didn't want to worry him, knowing he would feel he should encourage me to attend the funeral, despite wanting me to stay with him.
I spoke to Linda, my mum, my sister, my friend Clare, all the time hoping still for some kind of miracle leap forward in Marc's recovery which would allow me to attend the funeral guilt-free, knowing that Marc was 'on the mend' and could cope without me. Everyone was lovely, and said that it was up to me, they would support me whatever I did. I suppose in a way I just wanted someone to tell me what to do. I was sick of making decisions and feeling alone in them, so used to discussing everything with a husband who was, for now, out of reach.
My decision
By the Wednesday it was clear that no miracle was coming. Marc was still incredibly sick, and on such high levels of support that his survival was still by no means guaranteed. I knew that I would never forgive myself if I found myself miles away in York and received a phone call telling me Marc had taken a turn for the worse and I couldn't get there in time. So I decided. I would stay in Warrington with Marc.
But even with the decision made, I felt incredibly guilty and sad.
I sat on the Wednesday evening and wrote a letter. A speech, I suppose, that my Dad promised he would read aloud at the funeral. How he managed it I will never know, but he did. The speech tried to explain why I wasn't present at the funeral, the reason for my absence and the sentiments I would have expressed in person, had I been at the funeral. It took me a little while trying to find the right words, but in the end I was happy with what I had written. I will never know what the response to my words was, but I suspect it greatly added to the tears shed on that day.
The one person who mattered
I said how much I loved my grandma. How sorry I was that I couldn't be there to say my goodbyes, to pay my respects. To support my dad, and the entire family, on what must be one of the most difficult days for anyone. I explained why I couldn't be there, and stated the most obvious fact about my grandma: that I think, if we had been able to ask her, she would have told me to stay at home with my husband. Because although I loved my grandmother, there was nothing more I could do for her now. Because Marc was still alive, with a chance of survival, and he needed me. Because she was the kind of woman who would have completely understood. And as I wrote the speech I realised that, when asking all of the people around me, I hadn't considered the opinion of the one person who mattered. And I don't think she would have minded at all.
When I visited Marc on the day of the funeral, I talked to him about my grandma, Helen, sharing my memories of the woman I remembered her to be, and the woman I knew stories about from way before my birth. Exciting, romantic stories of her courage and bravery, of her coming to a strange new country to be with the man she loved, and forging a marriage which had spanned almost 50 years. Of bringing up four children, one of whom was my dad, a man I have the utmost respect and admiration for. I'm not sure if Marc listened or could remember any of what I said, but I tried in my own way to remember my grandma in the way I would have done had I been sitting in the church with the rest of the family.
I knew that I had made the right decision. That she would've approved of it. I hope she would have been proud of me, of the way I coped during a time of great stress and difficulty. Of the decisions I made and the way I tried to keep everything going. Perhaps she might have felt that I was a part of her and had in me some of the wonderful qualities that were an integral part of her character.
I truly hope so.